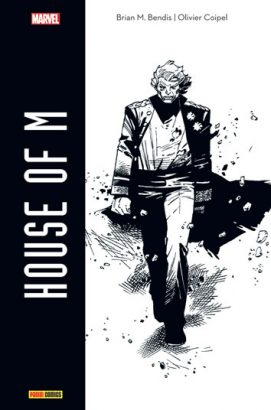 + View Gallery
House Of M – Edition Noir & Blanc
Published Date : 21 mars 2018
Description
Panini Comics lance une gamme de rééditions en noir et blanc de récits classiques de Marvel et commence par House of M, par Brian Michael Bendis et Olivier Coipel. Ce traitement noir et blanc, grand format, permet de mettre en évidence le travail d'Olivier. Pour l'occasion, l'éditeur m'a proposé d'assurer les textes éditoriaux de cette édition.
La description de Panini Comics:
Bienvenue dans la réalité alternative de House of M où tous vos souhaits se réalisent ! (Re)découvrez l'événement Marvel de l'année 2005, scénarisé par Brian M. Bendis et illustré par Olivier Coipel, dans une version en noir et blanc. Cette édition grand format est un écrin parfait pour profiter au mieux des magnifiques dessins du dessinateur français. (Contient les épisodes US House of M 1-8, publiés précédemment en couleurs dans l'album MARVEL SELECT : HOUSE OF M)
© 2018, Xavier Fournier. All rights reserved.
error: Content is protected !!